Trade in your vehicle to one with improved fuel efficiency
RECEIVE UP TO $3,500.00
IN TRADE-IN ASSISTANCE
IN ADDITION TO THE VALUE OF YOUR CURRENT TRADE!

CALL 1-800-POHANKA FOR DETAILS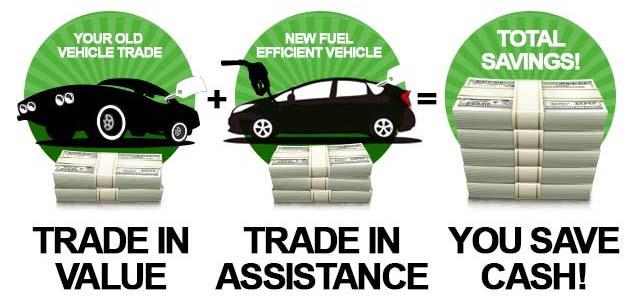 The A.U.T.O. program is a dealer partnership program to boost the sales of more fuel efficient vehicles, to get manufactures closer to new standards proposed by the federal government.   NO GOVERNMENT FUNDS are used in this program it is an exclusive private industry sponsored program. Any vehicle may qualify for the upgrade amount.

Unlike the former Cash For Clunkers Program, which gave you a flat fee for turning in your old vehicle, the new A.U.T.O. Program gives you TRADE-IN ASSISTANCE, that is IN ADDITION to the actual trade-in value of your present vehicle, when you trade in for any vehicle at a participating Virginia Dealership location.
Fill out the form to the right side of this page to locate the local, participating dealers in your area, and to find out how much you can receive in trade assistance.
*Vehicle trade assistance funding includes any and all factory rebate offers, dealer discount, and or appraisal value above BlackBook base average price after deductions for condition and mileage. Certain vehicles will qualify for special financing rates, customers may choose special rates in lieu of trade in assistance.